Saturday October 4th
CHALLENGE CUP 100 XL at CNS Big WIN for the 6 Team!
One of the biggest races of the season and one of the greatest endings to a championship year! Dominic started watching the races at CNS when he was 5 years old and just like every young fan he was hooked and dreamed of racing with the legends and he is very proud to have his name on the list with all the legendary drivers he grew up watching and looking up to. What a great way to end a season that we have all worked so hard to make happen! Thank you to the fans for all of your support!
Photo by Joe Starr
Sunday September 28th
2nd Annual Pikes Peak International Raceway 100
Dominic finishes 2nd and is the top Colorado driver at this event for the second year in a row.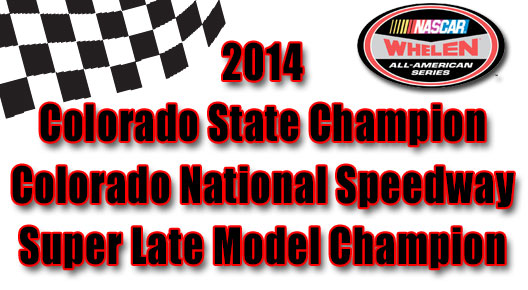 Saturday August 30th
The "DOMinator" Strikes Again!
The 6 team had a great night at CNS this Labor Day weekend! We won the Fast Dash and Stayed patient in the Main Event crossing the checkered flag 1st We would like to thank our pit crew for their tremendous dedication and attention to detail to help make our car the fastest on the track this year! Check out the Write up by CNS staff writer Eric Guttormson click here

August 12th
NASCAR Interview

Dominic Ursetta celebrates another win at Colorado National Speedway. The young driver has won six in a row at his home track. Ursetta used his win last week to jump from 101st to 83rd in the National standings and has scored eight wins and 11 top-10 finishes in 11 starts this season at CNS writes Tim Southers, NASCAR. check out the entire interview: click here
Saturday August 9th
The "DOMinator" Strikes Again!
"The car to beat this season" says CNS Staff Writer Eric Guttormson, for the complete story click here to read more.
"Dominic Ursetta is a dominant driver at Colorado National Speedway" Say's Mike Chambers Sports Writer for the Denver Post!
Check out this great article: click here
Saturday July 19th
The "DOMinator" Strikes Again!
Leading every lap of the Colorado Christian University "Classic" at CNS
Another great night at CNS! We set Quick Time for the 8th time this season, our fine tuned pit crew got us to the checkered flag 1st again! We are very thankful to our sponsors for believing in us over the years completing 6 track championships racing IMCA Modified in the dirt and now we are on our way to our first Track Championship on the asphalt!
Saturday July 5th
The "DOMinator" Strikes Again!
Ursetta sweeps both segments of the Famous Dave's BBQ Special at CNS
QUICK TIME 7th time this season! WOW what a night! This kid can FLY says CNS staff writer Eric Guttormson, for the complete story click here to read more.
Saturday June 28th
Dominic Dominates CNS Super Late Model for his 4th WIN! Carbon Valley Chamber "Connecting People" Night!
The night gets off to a great start with the #6 setting Quick Time for the 6th time this year! 2014 has been a breakout season for young Dominic Ursetta who won his 2nd straight Gillet Vet Clinic Super Late Model feature event in dominating fashion writes CNS Web master and staff writer: Eric Guttormson click here to read more!
We have to thank our dedicated sponsors for leading the way to what is proving to be a championship season!
Saturday June 14th
ROCKY'S AUTOS FATHER'S DAY "NASCAR KNOCKOUT"
"Dominic Dominates" for the WIN!
Great night for the 6 team! We started the night off getting our 5th quick time this year then the rain came so no qualifier. We started the Main Event in 7th and by lap 23 made our way to 1st were we were at least 3 seconds in front of the pack! Great job team! Check out the write up by CNS Staff writer Eric Guttormson click here
Saturday May 31st
Dacono Night "Mayors Race"
SET QUICK TIME!
For the 4th time this year the #6 sets Quick Time! We started 5th in the Main Event and quickly made it to 2nd position when our front right tire blew. Our pit crew quickly replaced it in time to get back on the track start in the back and by the end of the race we finish a respectable 7th place.
Saturday May 25th
Encana Oil & Gas Feature Event WIN!
Writeup by CNS Web master & PR:
Eric Guttormson
Gillette Vet Clinic Super Late Models
Dominic Ursetta probably did not plan to win the biggest race of the 2014 season is such a strange way but it certainly is not as if he did not deserve it either. Ursetta piloted his #6 to a win in the FAST DASH and would get a decent 4th place starting spot in the 100 lap feature. Read More click here
Saturday May 17th

Radios USA Feature Event WIN!
Setting Quick Time for the 3rd race in a row this year which set us up for the WIN! Starting in 8th position for the Main Event we narrowly missed a spin out. On the restart we set our sites for battle with the #11 Darren Robertson. When the checkered flag flew we were in front also capturing the points lead!
Saturday April 26th

Set Quick Time
We started the night off by Qualifying Quick Time for the second week in a row! In the Main event we were involved in an early caution that unfortunately sent us to the back. We fought hard and made our way to 4th missing 3rd by a nose.
Saturday April 19th
Set Quick Time before the Rain
Unfortunately the rain came before we were able to get the main event in but we were able to qualify Quick Time.
Saturday April 5th
Opening Day CNS Fast Dash WIN
Opening day of the race season is always exciting! We started off the day by crossing the checkered flag 1st for the Fast Dash setting us up for the Main Event where we drew a 4 pill putting us 2nd row outside. We battled it out to finish 2nd and earned enough points to be the points leader going into our 3rd Season at CNS. Let's keep up the good work!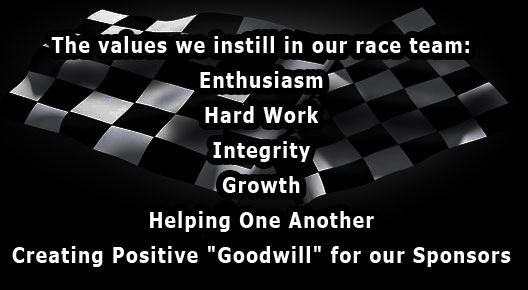 2014 Starts
Wins
Top 5
Top 10
Average Finish
15
10
11
12
2nd
Colorado National Speedway... 2014 Schedule
Date
Laps
Qualify
Heat
Start
Finish
04-05-2014
40
Won Fast Dash
4th
2nd
04-19-2014
40
0
0
Rain
Rained Out
04-26-2014
40
Set Quick Time
0
2nd
4th
05-10-2014
40
0
0
0
Rained Out
05-17-2014
40
Set Quick Time
0
8th
1st
05-25-2014
100
0
Won Fast Dash
4th
1st
05-31-2014
40
Set Quick Time
0
5th
7th
06-14-2014
40
Set Quick Time
0
7th
1st
06-28-2014
40
Set Quick Time
0
5th
1st
07-05-2014
30 & 50
Set Quick Time
0
pole & 5th
1st & 1st
07-19-2014
40
Set Quick Time
0
2nd
1st
08-09-2014
40
Rain
0
2nd
1st
08-23-2014
40
Rain
0
5th
Rained Out
08-30-2014
100
0
Won Fast Dash
4th
1st
09-12-2014
40
0
0
9th
6th
09-20-2014
50
0
0
7th
start & park
09-28-2014
100
SRL Pikes Peak
SRL Spears
4th
2nd
10-05-2014
100
Set QuickTime
SRL Spears
4th
1st
10-05-2013
50
PPIR
SRL Spears
6th
1st