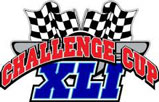 Saturday October 3rd
The 6 team Winning Second Consecutive Challenge Cup at Colorado National Speedway! Topping off the 2015 season with 10 Wins, winning more races in the last two years than all the drivers combined in the Super Late Model Division!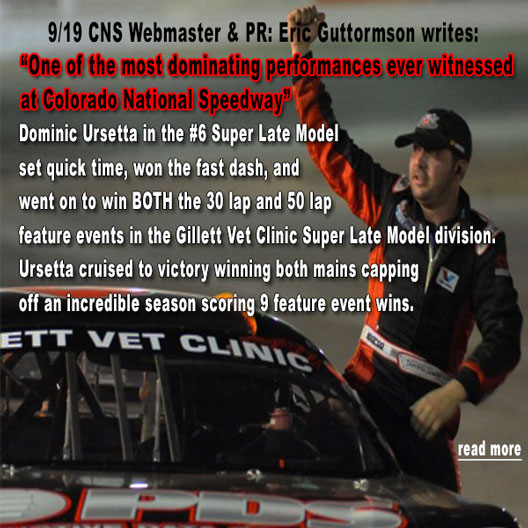 Saturday June 27th
Ursetta Sweeps Mountain View Fire and Rescue Night!
What a fun night with great racing! Dominic qualified with a quick 16:202... The pill draw puts Dom in 6th position for the Fast Dash where he crossed the checkered flag 1st giving him momentum for the Main Event. The next pill draw starts the main with Dominic starting 5th. It was a great race to watch and the fans really loved the show!
Friday June 19th
Colorado Motorsports Park
New Track First Modified Race!
In the First IMCA Open Wheeled Modified race at the new Colorado Motorsports Park Dominic starts 6th in the Main Event and finishs 1st!
Sunday April 26th
Dominic in just his second ARCA Racing Series presented by Menard's start, finished third in an impressive run Sunday at the Federated Auto Parts 200 at Salem Speedway.
Racing with veteran Ken Schrader on the final lap and battling a loose race car, the second place Ursetta charged for a final shot at the win, getting passed in the final turn to come home third –very impressive, considering both last week's test and qualifying had been rained out.
Ursetta, 26, driving the #55 Arvada Excavating/ Productive Data Solutions Toyota for Venturini Motorsports, raced at the front of the field all day, despite only having 30 minutes of practice on a track he had never been to.
"It's a very intimidating track ...You've got to know how to get around this place," Ursetta said. "Racing with a legend like Ken Schrader; it definitely boosts your confidence to know you can keep up!"
Ursetta, who now has two Top-10's in as many ARCA starts, did more than just keep up, he impressed with his skills and ability. Throughout the ARCA broadcast, he was praised for his speed and poise. This was Ursetta's second race of a two-race deal with Venturini Motorsports.
"I can't say thank you enough to the team and all the people that made this happen. Our partners, Arvada Excavating and PDS have been great, and I look forward to representing all of our sponsors in Victory Lane soon," Ursetta said.
A Veteran of the NASCAR Home Tracks ranks, the Colorado native is ready to take the next step in his racing career.
"The plan is to run some more ARCA races this season, and transition to the XFINITY series towards the end of the year," said Ursetta. "I've been waiting my whole life for this opportunity."
Saturday April 5th First win of the season!
CNS kicks off 50th Anniversary Season
Just as the 2014 season ended the 2015 season began with young Dominic Ursetta continuing his mastery of the 3/8th mile paved oval says CNS staff writer Eric Guttormson
Saturday March 14th
ARCA Mobile 200
"Dominic Ursetta Solid in ARCA Debut" says Venturini Motorsports read the full story...
We would like to thank the Venturini team for their expertise putting together the team and the car to beat this weekend!
"We have ourselves a wheel man says crew chief
Jeff Mclure" VMS

We would also like to thank the kind energetic hospitality we received from the sponsors of the 55 team Mosquito Patch... Check them out!

March 5, 2015
Dominic Ursetta; Colorado's Super Late Model Champion Ready for ARCA Debut at Mobile Int'l Speedway
Dom recently signed with Venturini Motorsports! This is the biggest race of my career! read the full story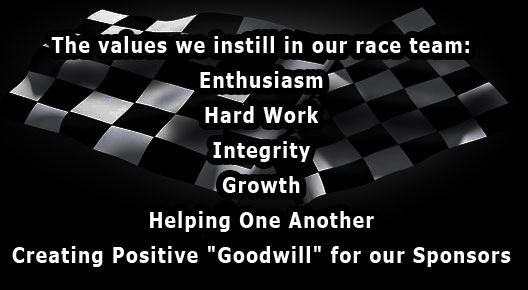 2015 Starts
Wins
Top 5
Top 10
Average Finish
17
10
13
16
2.7
Date
Laps
Series
Location
Start
Finish
02-28-2015
250
Bakersfield, CA.
5th
14th
03-14-2015
200
ARCA
Mobile, AL.
17th
9th
04-04-2015
40
Wheelen
CNS
2nd
1st
04-26-2015
200
ARCA
Salem, IN.
8th
3rd
05-30-2015
30
Wheelen
CNS
8th
1st
05-30-2015
35
Wheelen
CNS
6th
3rd
06-19-2015
20
IMCA
CMP
6th
1st
06-27-2015
40
Wheelen
CNS
5th
SWEEP! 1st
07-04-2015
40
Wheelen
CNS
4th
1st
07-18-2015
50
Wheelen
CNS
3rd
1st
07-25-2015
40
Wheelen
CNS
4th
1st
08-08-2015
40
Wheelen
CNS
3rd
1st
08-28-2015
40
IMCA
CNS
3rd
2nd
09-05-2015
100
Wheelen
CNS
9th
4th
09-19-2015
30
Wheelen
CNS
3rd
SWEEP! 1st
09-19-2015
50
Wheelen
CNS
4th
SWEEP! 1st
10-03-2015
100
Wheelen
CNS
6th
1st