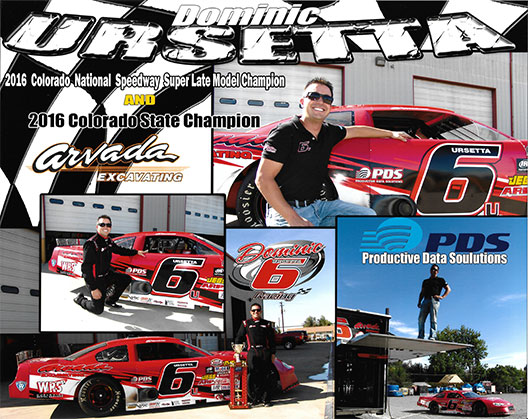 Saturday September 10th
I-25 Speedway Thunder In The Rockies the 6u team traveled to Pueblo Colorado for the first time ever to run this legendary track, had a great night of good racing. Raced hard to hit the checkered flag 1st! Great job team!
Saturday August 13th
It was pure domination in the Gillet Vet Clinic Super Late Model division as points leader Dominic Ursetta crushed the field leading almost every lap to take home the huge win on the Colorado Lottery Lucky For Life Night at CNS says Eric Guttormson PR-Webmaster Colorado National Speedway. Full Story click here
Saturday August 6th
Sherman County Speedway Colorado & Kansas
Late Model Race
Had a blast night in Goodland, Kansas! Started off by winning the Late Model heat race then made a last lap pass to win the dash for cash... Got in the Modified and won the heat race and got back in the Late Model and won the feature leading every lap... We got rained out for the Modified feature... I can't thank my guys enough for all the time and hard work they put into this crazy life of being racers James Prescott, Justin Sutter, Albert Sack, Anthony Rhoades, Scott Rhoades, Marty Vigil, Pat Amann Mike Ursetta and everyone else who helps.... I've need to thank my parents most of all Dub Ursetta and my mom and my whole family.... My future wife you know who you are ;) Super Fan Angela Herman Cordell and all of my fans that support us no matter what.. I am very thankful for everyone in my life and appreciate you all!
Sunday July 3rd
Famous Dave's BBQ Special WIN!
Colorado National Speedway
The 6 team started the night off great getting quick time 16.235 and going on to WIN the 1st 40 lap race! Unfortunatly we were involved in a large crash in the 50 lap feature event and were unable to finish the race. The aftermath of another bad luck day... We picked up the win in the first main event and the track decided to put slower cars infront of the faster cars in the second main.... After a caution early in the race the track also decided to put tore up cars involved in the cation back in there spots and unfortunately the tore up eggleston broke a trailing arm and spun infront of the field... Luck just wasn't on our side this time but we are gonna get the car back together and try our luck again next weekend thanks for all the help and support hope to see everyone at the track. Photo by: Joe Starr
Saturday June 4th
Thomas County Speedway WIN!
Great night for a race and we always love racing in Colby!
Saturday May 29th
Memorial Day celebration
at Colorado National Speedway
High Country Harley Davidson
100 Lap Super Late Model Race
Ended up getting it done this weekend with the luck from a caution with 4 to go.... Didn't have the car to beat but the last lap is the only one that counts I can't thank my guys enough and everyone who helps out and supports our team...

Saturday April 23, 2016
Opening Night
Colorado Motor Sports Park
Great start to the race season with a WIN in the 6u dirt in the Modified!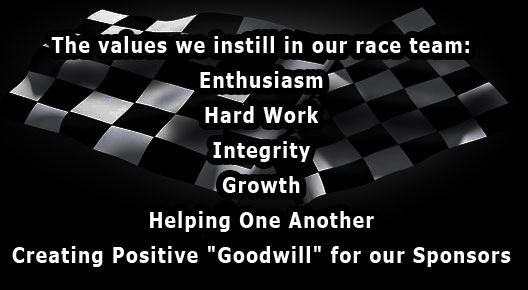 2016 Starts
Wins
Top 5
Top 10
Average Finish
21
8
18
19
3rd
Date
Laps
Series
Location
Start
Finish
04-02-2016
40
CNS
4th
2nd
04-23-2016
25
Dirt Modified
Byers, CO.
6th
1st
04-16-2016
40
Wheelen
CNS
0
Rained Out
05-07-2016
40
Wheelen
CNS
0
Rained Out
05-14-2016
40
Wheelen
CNS
9th
2nd
05-29-2016
100
Wheelen
CNS
9th
1st
06-05-2016
40
IMCA
Colby, KS.
4th
1st
06-18-2016
40
Wheelen
CNS
7th
2nd
06-25-2016
40
Wheelen
CNS
5th
4th
07-03-2016
40
Wheelen
CNS
6th
1st
07-03-2016
50
Wheelen
CNS
10th
18th
07-16-2016
40
Wheelen
CNS
8th
3rd
07-23-2016
20
Dirt Modified
Byers, CO.
2nd
1st
07-23-2016
20
Dirt Late Model
Byers, CO.
2nd
2nd
07-30-2016
40
Wheelen
CNS
2nd
3rd
08-06-2016
40
Dirt Late Model
Goodland, KS.
1st
SWEEP 1st
08-13-2016
40
Wheelen
CNS
3rd
1st
09-03-2016
100
CNS
3rd
6th
09-10-2016
30
Wheelen
I-25 Speedway
6th
1st
09-10-2016
30
Wheelen
I-25 Speedway
4th
3rd
09-17-2016
40
Wheelen
CNS
3rd
2nd
09-17-2016
50
Wheelen
CNS
3rd
3rd
10-08-2016
100
Wheelen
CNS
3rd
15th